We published this excerpt on 26 March, 2007:
'Brisbane Barrister's Bullshit Brag'
Below the TEXT and/or images, are the URLs/hyperlinks to the many aspects of this topic.
I am publishing this, because the present FRAUD & CORRUPTION in QUEENSLAND and now AUSTRALIA has occurred,

only because the CORRUPT labor political system in Queensland, [and now Australia], has made the judiciary corrupt and thus the whole legal profession utterly corrupt.

SEE WHAT I INTEND TO DO ABOUT IT !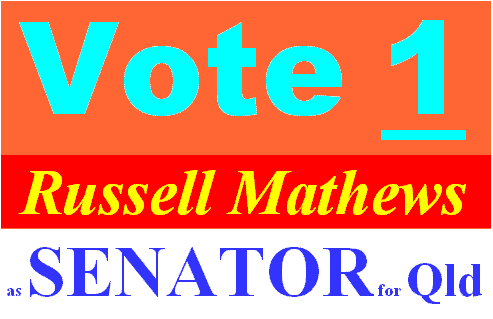 CLICK on image => My Election HOMEPAGE
We published this excerpt,


Now a 'reappointed' 'Member' of the Queensland Anti-Discrimination Tribunal and spouse of Brisbane Magistrate Christine G Roney aka Christine Roney, in a WRITTEN ADMISSION of FRAUD of the Commonwealth of Australia and FRAUD of The University of Queensland,

labor LACKEY & STOOGE Peter Roney

wrote:


"... I've appealed against my TEAS decision on the basis that a week before my exams Sue & I broke up as a result of a letter she sent me. She did in fact send it to me, but it was only 2 weeks ago and upon my request. I have statutory decs. from 2 people "who knew of my circumstances," a medical certificate & a letter from a psychiatrist (no less) which all say I was incapable of sitting for the exams I failed, & its all

bullshit

. This is obviously where contacts are important. ..."





as the transcription of:
Click here, or on the IMAGE, to see the FULL SIZE scan of the actual hand written admission of FRAUD by Peter Roney

without Peter Roney's identity, more than two years ago on 26 March, 2007 under the title
'Brisbane Barrister's Bullshit brag; member Association of labor Lawyers', in Australian Law Publishers Pty Ltd Journal named Australian Legal Profession Law Journal issue200701. We were giving him the opportunity to diminish the charges that could be levied against labor. Because he did not take that opportunity, the CRIME OF labor is thus exacerbated. If you know Peter Roney, you will know that he is a stature challenged nobody. He means nothing to us, except a way of HIGHLIGHTING labor CORRUPTION. We publish this to show the DEEP CORRUPTION IN labor AND to re-focus attention on the crimes of Terence Joseph Mellifont AND his and HIS WIFE'S Judge Julie Maree Dick, 'involvement' in ELECTORAL FRAUD. We will be interested to see what corrupt labor and corrupt Queensland labor police do, from here.

Peter Roney is just an insignificant pawn in our attack upon endemic labor corruption. Were labor not so corrupt, we would not be publishing. Our interest is to see what corrupt Queensland labor will do. We know of the corrupt actions of Brisbane Magistrates. Now we have the 'attention' of Magistrate Christine Roney, we wil advise her of the detais to see if she will act appropriately, or whether we will be able to lay 'charges' against her too.